Disney World on a budget? 
Can this even be done?? Yes, while Disney is … well *cough* overpriced (especially when the kids want every souvenir they have to offer) there are many ways to save on lodging and Disney tickets. Orlando is the most visited U.S.destination with over 72 million visitors in 2017 which means there's going to be a lot of competition for your dollar and that's a good thing. 
There are lot of deals to be had and they range from free tickets to BOGO tickets to free rooms.  Fortunately, there are lots of other entertainment options to be aware of and ways to see the Orlando area without spending a fortune. So let's get to it!
Did you know the average family of 4 will spend over $6,360 on a 5 day Disney vacation? According to this article, a low low budget could be as cheap as $3,564. But a deluxe experience could be as much as $9,781!
While you will definitely spend some money if you want to hit theme parks and some of the big attractions, I would recommend that you first identify what is the most important experience that you are hoping to have. Theme parks? Water parks? Dining? Night Life? Shopping? Some of these tips will help you slash those expenses by over half!
Whatever your focus, start there for planning.  Since most people head to Orlando for the theme park experience, I'll start there….there are plenty of options for discounted tickets to theme parks and water parks and you will almost always pay less when you buy online rather than at the gate.
AND Depending on what type of lodging accommodation you have in mind, you can sometimes double dip with low priced (and often good-sized) time share-style resorts as well as free or discounted theme park tickets. That's right!  If you like the sound of BOGO, check out this site for BOGO 1-day Disney tickets.
These resorts will give you a steep discount on a condo AND will often give you either a couple free Disney tickets or Universal tickets or even sometimes straight cash! What's the catch?
Well they say the catch is only 90 minutes of your time…. but I'd plan for it to take more like 2 hours and a strong sense of willpower against a very strategic (dare I say annoying?) sales attempt.  As an example,

here is one

that offers free Disney tickets for attending a 90-120 min. timeshare tour (they also offer 3 free nights at a hotel if you don't want tickets).  
If we are in town long enough, and the value of the tickets and the discount are over $200, I tend to say it's worth our time. I mean, I don't even make close to $100 an hour on a great day, so I'm willing to put in the time. Besides, even if it takes a $12 Mai Tai to unwind after the sales pressure, I'm still way ahead!
Orlando Lodging Websites to Check Out
Check with these lodging sites
 for always-changing deals as they try to fill rooms! 
Now, if the timeshare shpeel is totally never going to fly for you, check in with

Groupon

and Living Social. Orlando resorts tend to always have a deal of some sort on those apps. When searching for the right Orlando-based accommodations on a budget, I would recommend paying close attention to 3 things … resort amenities, resort credits and hidden resort fees. 
1)  Resort amenities – depending on who you are traveling with and their ages or interests, a resort with certain amenities will actually save you $ from going out for for entertainment.
There are so many resorts like Reunion Resorts or the Liki Tiki Village with really decent on-site water parks that will definitely keep kids of all ages quite satisfied. Looking for fine dining or unique dining opportunities?
Somewhere like Gaylord Palms features a restaurant on a sailboat in a lagoon inside an air conditioned atrium….. Did you even know that was possible?!?! And that's not even their only dining option!
Try their Mediterranean buffet just over the bluff from the castle, it's spectacular! Having amenities of interest on site will save you time and money somewhere like Orlando for sure! 
2) Resort credits – you can often find resort credits as part of the "package", especially on sites like hotels.com. Take a look at the details, their offer of $50 of "hotel money" is typically just for eating in their onsite restaurants, drinking at their bars or ordering room service and NOT parking or resort fees.  
So If you were planning to eat at one of their restaurants anyways, the credit can be a solid value. I mean $50 off dinner is nothing to sneeze at, I'll take it! 
3) Watch out! Daily Resort fees and daily parking fees are almost never included in your a Groupon purchase, so be sure to read the details. When you are price comparing, you should take into account the approx $20 per day resort fee plus your approx $20 per day parking fee. Of course, those are just some average fee costs, but be sure to pay close attention, especially booking on line.
Ok, back to the tickets briefly- even if you aren't staying at a time-share presentation style resort and committing yourself to their presentation, you can often find presentations that just pull you in for tickets or dining discounts. These can be a win if you already have your lodging lined up. 
Less Spendy Ways to do Disney
Moving past lodging and discounted theme park tickets, even if you aren't actually going to the Magic Kingdom, here are some ways to feel the magic of Disney without having tons of magic in your wallet:
Keep in mind that there are also tons of family entertainment options that, although they aren't free, will often be a lot cheaper than a day Disney or a theme park.
First, check a rest stop on the Florida Turnpike when you are in the area for any of the million color tri-fold pamphlets for options AND coupons! Orlando is filled with entertainment options from laser tag to go-carts, hands-on museums to nearby air boat rides.  
If you are willing to drive or coordinate part of your trip to some of the areas approximately an hour outside of the Orlando area, the many Florida Springs in Central and North Florida are not only a unique and gorgeous experience, they are mostly part of State park systems, meaning they are NOWHERE as expensive as an Orlando water park.
For example, entry into Universal's new Volcano Bay Waterpark will cost a family of four $310 while the admission into Blue Springs State Park (only 45 min from Orlando) is $6 for a car load of up to 8 people!  Not bad for crystal clear water and fish and possible manatee sightings.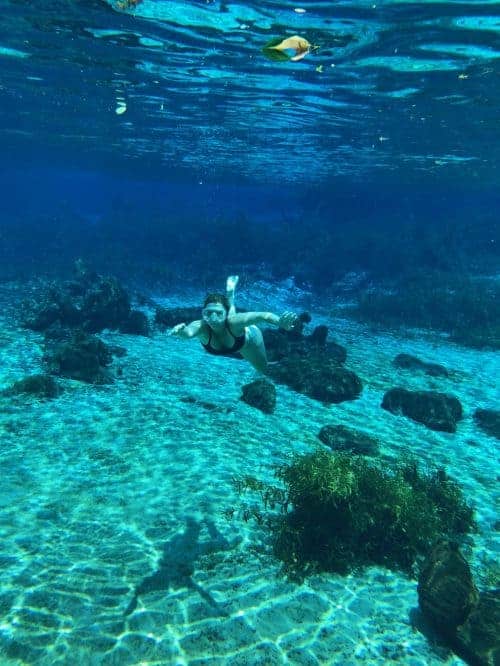 Lastly, if you do find yourself caught up in the magic that is the Magic Kingdom, be prepared to fight the temptation of the oversized Mickey plush. Remember, the gift shops on every corner over by your hotel?
They are ready to sell you the same plush for a fraction of the price!  Or even more convenient, order a 15" Mickey plush from Amazon for $15 before you even head to Orlando 😉  
Are you a Disney pro and you think there's something missing from this article? Great, we'd like to hear about it -it takes a village after all!
Leave a comment below and let everyone know.