Where else can you vacation on one of the largest freshwater lakes in the world with massive sand dunes nestled right on the shore of the lake?  Want to stretch your legs running around on endless sand dunes but don't want to jetset to the Sahara? Look no further than Lake Michigan.  There's plenty of shoreline on this lake and we only touched on a fraction of it. 
Check out our experience below. I know you'll be inspired to see what its all about!
Great

Sleeping Bear Dunes
Fast fact about Michigan; you're never more than 6 miles from any given body of water when you're in Michigan.  If you like water sports, fishing or lake views, then you're in luck when you take a trip to Michigan.
Not only did we experience a lot of lake fun but also sand dunes…and lots of them!  The first stop: Great Sleeping Bear Dunes
What is this place? Well, its a gigantic dune that is situated between a small lake called Glen Lake and a giant lake that we all know, Lake Michigan. Its a must for kids, guaranteed to entertain. Entry fee is $25 but its good for 1 week.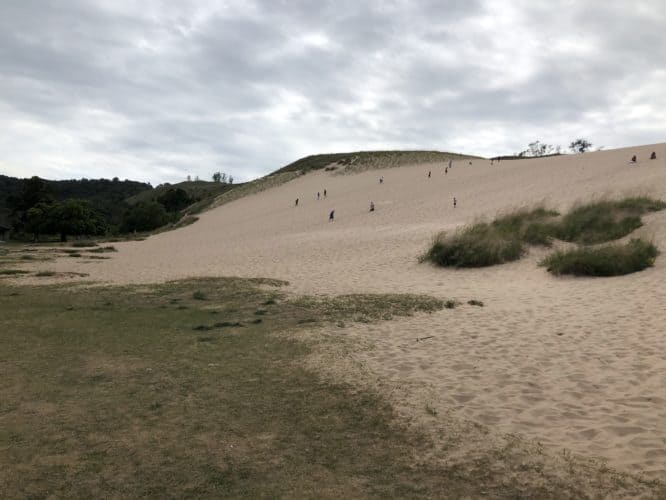 Once up the primary dune, its a 2.5 mile (one-way) hike to Lake Michigan. There are 6 or 7 dune crests to get up and down and plenty of places for kids to run down at full speed.
Temps are good (in August) and there's often a breeze due to the lake. Its not going to be a miserable hike through the blazing Sahara desert but take water. It was 3 hour round trip including time to mess around at the lake.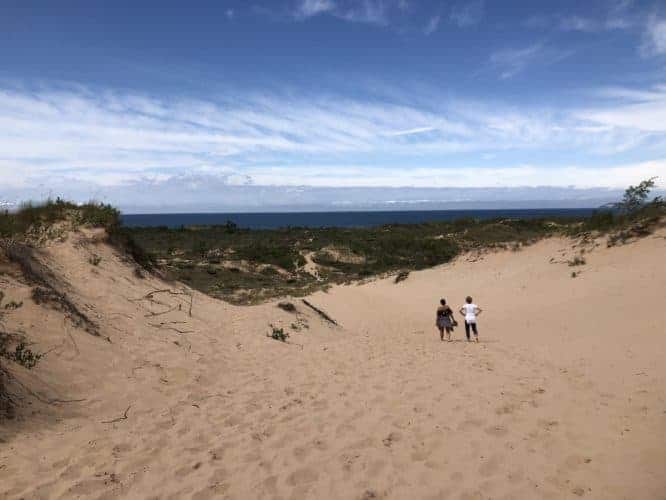 Water temp is in the low 70's but refreshing. If you happen to not have enough drinking water I drank the water directly out of the lake without problems. On windier days you'll see waves big enough to boogie board on.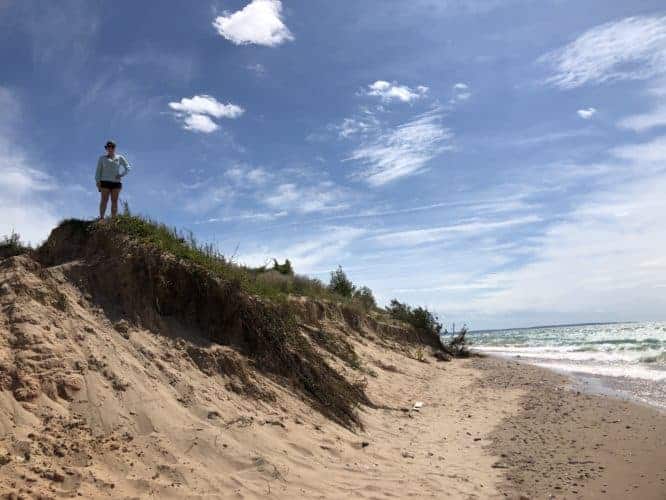 It Might be worth bringing a boogie boars to at least sand boogie down the dunes (and on the waves if there are any). Clothing: wear something to block those rays and yes, you can do the entire 5 mile trek barefoot.
Don't worry about bringing a towel if you're going swim because you're gonna be dry by the time you get back. Low humidity and a pleasant breeze will dry out your clothes nicely.
This is truly a unique experience that is a must if you're going to be in the region. There aren't many places besides out West where you can experience elevated dunes like this…especially where the sand isn't scorching hot.
Of course, if you choose not to do the entire round trip you can always just spend some time around the first dune and nearby areas. Plenty of folks choose to go that route. Feel free to make a day of it. There are bathrooms and picnic tables near the parking lot. 
Sleeping Bear Dunes Scenic Drive
On this drive you will have opportunities to stop and check out views of Sleeping Bear Dunes, Lake Michigan and nearby Glen Lake. There are also designated picnic areas to stop at.
The most interesting thing you will find is a massive 600 foot high dune that drops right down to Lake Michigan. Its impossibly steep and it makes you wonder how the whole thing doesn't just slide into the lake.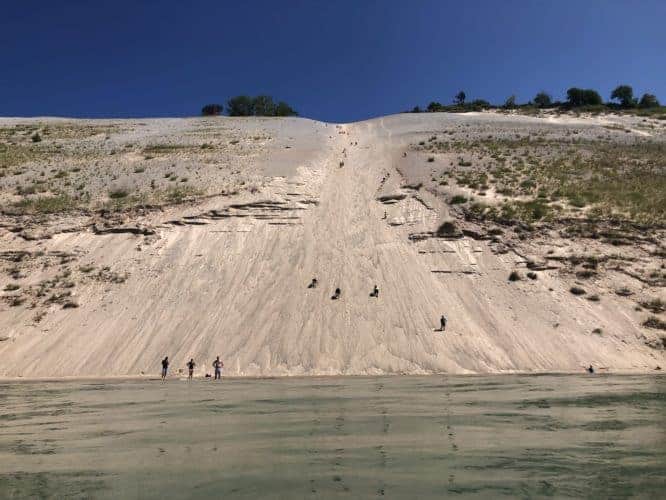 Here's the deal with descending the face of this thing: (if you choose to take on this challenge) There are signs that say to stay on the trail but there are also signs that say a rescue from the bottom of the dune will be $3000 so I don't get the impression that descending the face is expressly forbidden.
As you would guess, we decided to descend this monster (despite a nagging voice in our heads that cast some doubt on this decision). Spoiler alert: going down is waay more fun and enjoyable than going back up.
Getting down took only a few minutes. We hung out for a bit, swam a little in the clear waters of lake Michigan and then looked up at what lay ahead (or should I say what lay overhead). The thing about ascending this dune is that the sand slides with every step so in reality, when you take a step up, you slide a bit back.
Imagine a stair stepper in the gym, its like that except its a stair stepper designed in HELL! And of course, we've got a 6 and 4 year old who weren't as pumped to be taking on the challenge of the ascent as they were the fun of the descent. I had 4 year old duties.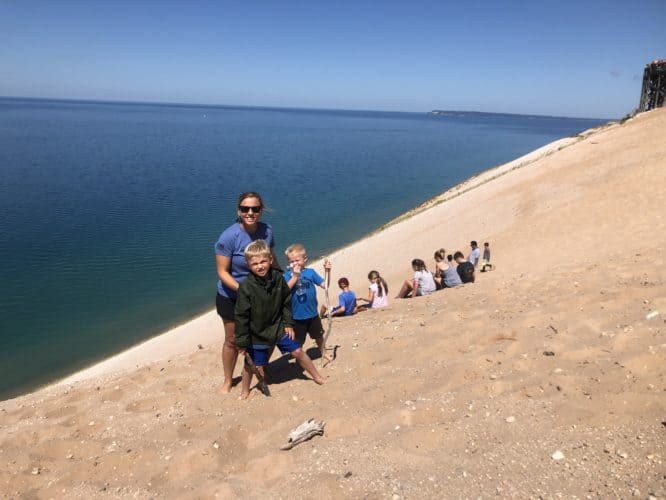 I encouraged him as much as i could, I tried the "3 steps and rest" technique but eventually, about a 1/3 of the way up, I had to carry him. Once on my back, the ascent went from "challenging" to "holy crap!". 
It was pretty much me climbing a crazy steep sand hill in slow motion. All tolled, the ascent was about 50 minutes. Not as bad as I was expecting. Young, fit college kids were killing it in a little over 20 minutes (sans kids clinging to their backs, of course).
At the top there is a nice lookout where you can get an excellent view of the dunes and lake. Definitely worth the stop even if you don't go all the way down the lake. 
Glen Lake in Glen Arbor
We ended up staying at a hotel (

the M-22 Inn

) about 100 yards from Glen Lake.  From Glen Lake you can easily see the first dune of Great Sleeping Bear. It was a really good location to be able to hit all the nearby dunes and lake activities but it was also a great place to be able to walk down and take out some paddle boards or kayaks for a bit.
It stays shallow for a good ways out so if you have kids still learning to paddle its a great place to do it. And the water in the shallows is warmer than lake Michigan, for sure.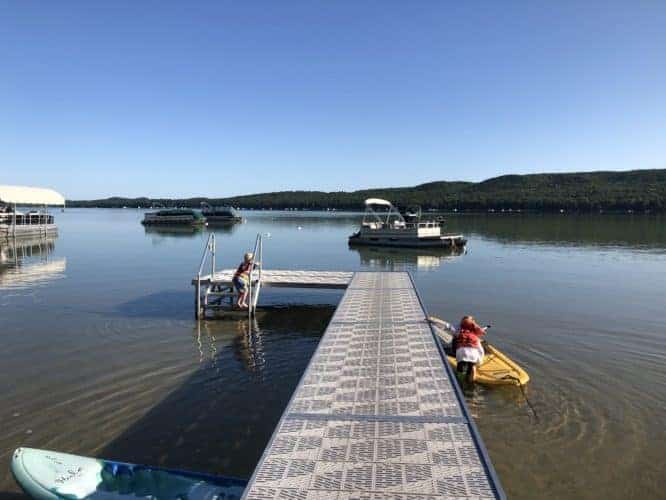 The motel has all the life jackets and paddles you'll need and there's no fee to take out their boats. We ended up starting our day out with some leisurely paddling then on to breakfast after that.
Where to eat: just minutes away, there are several restaurants to choose from. We ended up going to the

Shipwreck Cafe

.
Silver lake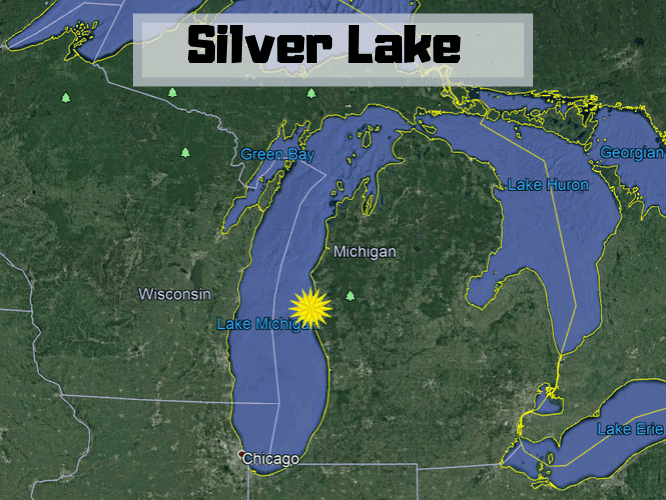 Boasting big time sand dune fun, we decided to head south to the Silver Lake region which again was nestled right next to lake Michigan. We got an AirB&B nearby so that we could have easy access to the dunes.
We also decided to get some groceries the night we arrived in order to save some cash. Our first order of business the next morning was to hop onto

Mac Woods

famous dune rides.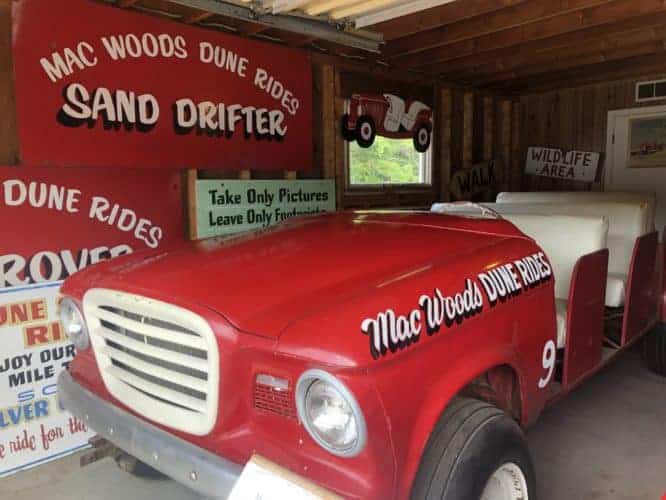 The same family has been running this dune tour for 89 years! Its a 45 min. tour of the dunes with several stops along the way. For the four of us it was $60. It ain't your grandfather's dune tour, they go pretty fast through those dunes.
Its kind of like dune buggy tour meets roller coaster ride. Its a good time and you get to learn about the area at the same time. The dune itself is sectioned off into 3 parts by the state: 1/3 is leased by Mac Woods, 1/3 is a pedestrian hiking area and the last third is for ORV (offroad vehicles).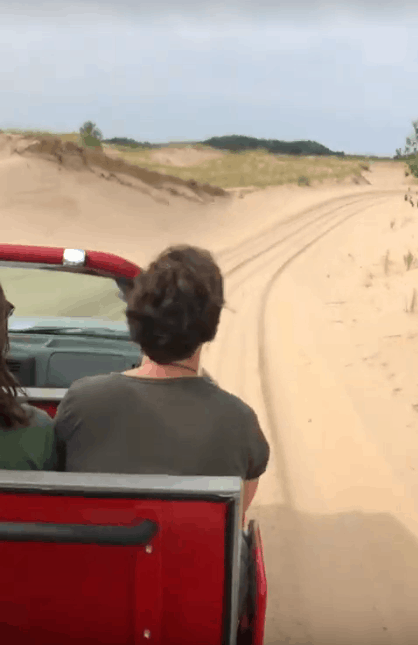 Its where anyone with a 4-wheeler, dirt bike, dune buggy, jeep or other 4×4 can go and live out their offroad dreams (to include sand ridges, steep inclines and water hazards).  The town is essentially built around these dunes and the tourism it attracts.
As is the nature of sand dunes, it shifts and moves with winds and storms. In fact, one house built right on the edge of the dune, is now in the process of being swallowed by it.
After our Mac Woods dune ride we went to check out the nearby lighthouse. 
If you haven't noticed from the other articles here on the site I like gear, especially gear that does what its supposed to and is well designed.  One thing I find the need for is a way to carry a few things but not a ton of things. 
Something more than the space my pockets provide but less than a backpack.  I have noticed recently the growing popularity of the cross body sash style bags.  So I decided to give it a go. I got one from a company called PacSafe.
They make RFID safe, anti-theft bags that I have talked about in other articles. Their packs are well-made and smartly designed. There's definitely lots of room with several different sizes zippered pockets and mesh pockets within pockets etc. 
Michigan was my first use of this bag and it was easy to get used to, not really awkward at all.  Its barely noticeable when its on.  So far so good, its likely going to make into my "must haves" for future trips to come.  Its worth checking out if you are looking for a convenient solution to haul some personal items like wallet, phone, sunscreen, keys etc. 

PacSafe Vibe

.
Little Sable Point Lighthouse
There's a small section of beach on lake Michigan with a still-functioning lighthouse that you can climb to the top of. The water is shallow and an excellent place to take the kids. The entry fee into the park is $9 but this will get you into several other state parks for the week (so be sure to keep your ticket).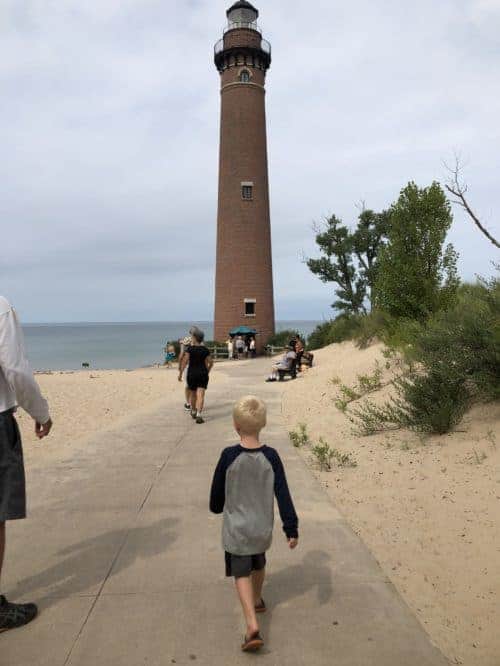 Walking the Silver Lake Dunes
After the lighthouse went over to the edge of the dune where pedestrians can hike around the dune. We used our pass from the lighthouse to get into this area too. There is a parking lot with bathrooms here, if need be.
It was a fun experience walking up and down the dunes and watching all the ORV's zipping over the dunes. There were hardly any other hikers so we had the dunes virtually to ourselves. 

Its definitely a unique experience being able to be surrounded by all that sand and nothingness. If you are looking to "get away from it all" then walking around out here will surely achieve that.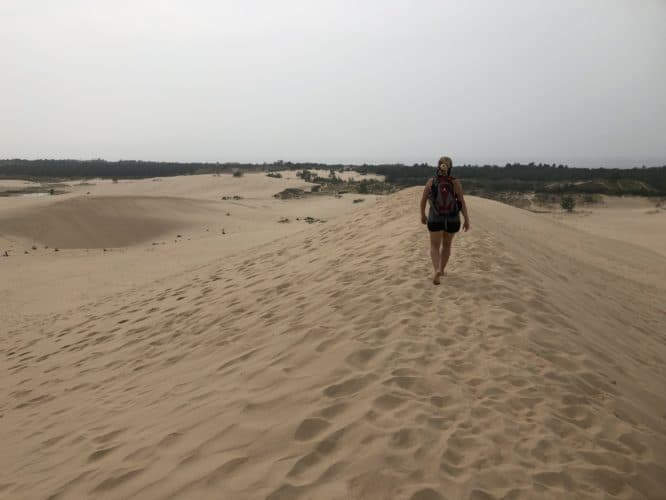 That, in a nutshell, is our short trip to the northeastern region of Lake Michigan. It could be summed up nice and succinctly (as the license plate states) "Pure Michigan". 
Clear blue waters, rolling sand hills, refreshing breezes and…totally worth it. As we were leaving we remarked how this area needs to be on our "to revisit list".  If you have a chance to see the area, don't hesitate!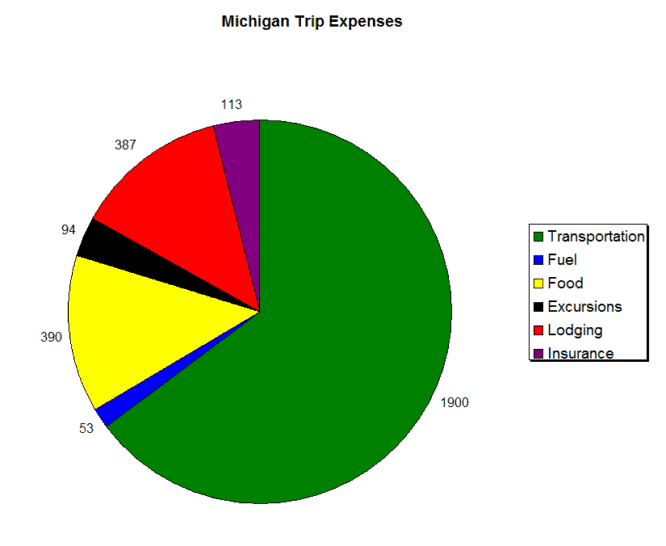 Been to the area? Perhaps you are from the area and want to share some places that the readers should know about? Please include it in the comments below!