Is your kitchen out of control? Do you feel like you're spending too much time hunting around for things?
Or maybe your pots and pans spill out of the cabinet every time you open the door? 
Relax, take a deep breath and lets see if I can offer some hope with the tips and tricks in this article. 
The suggestions offered here will help you tame those pots and pans, find spices in seconds, gets those canned goods whipped into shape, and generally utilize space that was previously unused. 
These ideas will save you time, headache and effort. Who doesn't want that?!  Let's get to it!
Put That 6-Pack Holder to Work
When you're done with that 6-pack, don't throw the container away – you can put it to work in your fridge!
Use a cardboard 6-pack holder as nifty way to organize your refrigerator.
Each of the six slots can be used to hold sauces, dips, and dressings. 
Organize Your Grocery Bags
Do you have a special spot where you stuff all of your grocery bags?
Leftover grocery bags can certainly come in handy for a number of things, but storing them in your kitchen can get a bit overwhelming.
To cut down on the clutter, get a wall mount grocery bag dispenser to keep all of your bags neatly in one place.
Jars!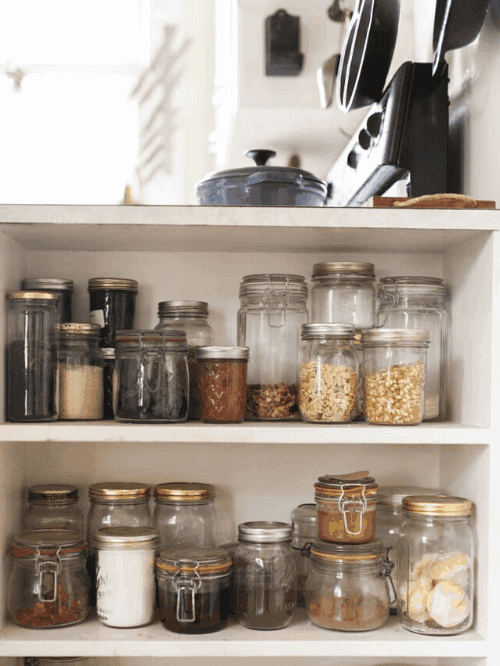 Glass and plastic jars come in a wide array of sizes, shapes, and designs and they can be used for a seemingly endless array of solutions.
Use jars to store pasta, flour, sugar, spices, cereal, and more and use them to decorate your kitchen while you're at it.
Jars offer the perfect combination of function and fashion!
Baskets Hold It All Together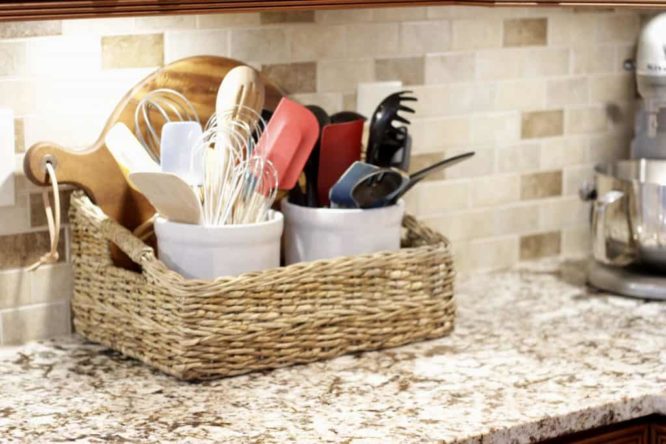 Baskets of varying sizes and materials can be used as a functional and decorative way to bring your kitchen all together, just like jars!
Instead, with baskets, you can store larger items, such as boxes of
items, cans, paper goods, and more. Baskets can be used in pantries, on exposed shelves, in cabinets, and elsewhere.
This is a great solution for de-cluttering your kitchen!
DIY Shelves Can Maximize Your Storage Space
Needing a place to put all those jars and baskets? If you've got a clear spot in your kitchen, dining area, or pantry, you can always add shelves.
Shelving is relatively easy – all you need is a flat piece of wood and the proper brackets.  Get some DIY shelf inspiration here.
Spice Rack Organization
If your spice storage is looking a little overwhelmed, there are a few ways you can tidy things up a bit and even get more space out of your organization.
You could easily use a spice rack, baskets, or shelving to store your spices, but there's another way you might like the Spice Gripper Clip Strips for Plastic Jars.
These strips can be installed directly onto the inside of your cabinet door and have arms designed to grasp your spice jars.
Add Drawers to Your Kitchen
If you have lower cabinet space that's open, in other words it doesn't have any actual drawers, you might consider adding storage there.
While pull out storage systems can be quite expensive, using something such as the Sliding Basket Drawer is an inexpensive way to get the extra storage space you need.
Organize Your Canned Food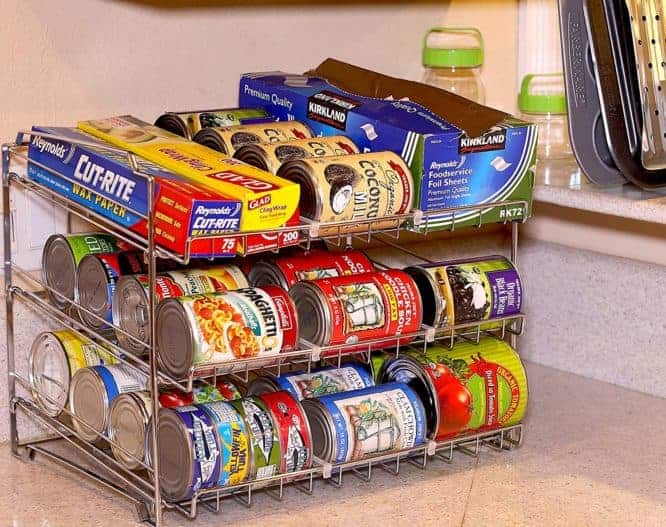 If your cabinet or pantry is brimming with cans, you might be wondering if there's another way to stack them.
Fortunately, there is a plug n' play solution! The Stackable Can Rack Organizer offers a wonderful way to organize your canned goods.
You can fit up to 36 regular sized cans on just one rack! These racks are super simple to assemble, and you can buy as many as you need to accommodate your canned good inventory.
Clean Up Your Pan Collection
Does it seem like your pans just end up in a constantly falling stack in your cabinet? You need a better way to organize them for sure.
I give you the Cabinet Organizer Rack!  Its a streamlined way to do just that.
Each rack can hold up to five pans or pan/pot lids, giving you back more cabinet or shelf space!
Hang Up Your Pots and Pans!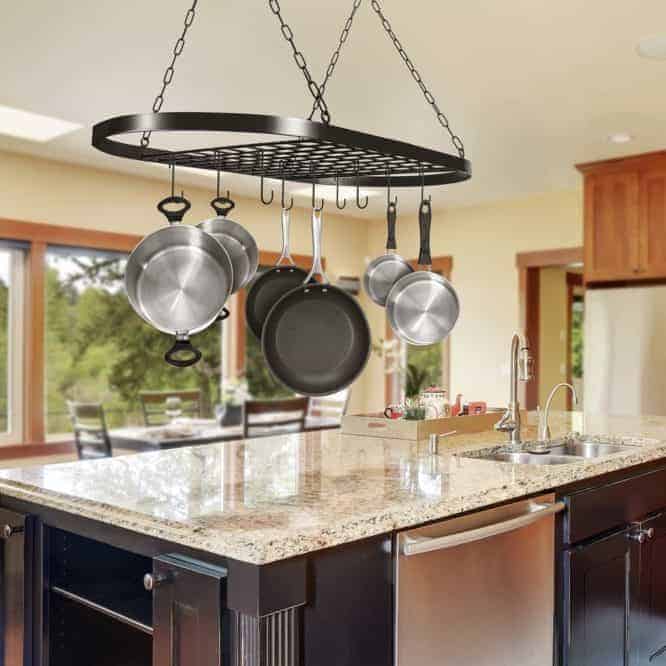 If you're looking for a more decorative way to clear out some shelf space and store your pots and pans, why not try a hanging solution?
For instance, the ceiling-mounted Pot and Pan Rack offers a beautiful presentation yet can hold several pots and pans.
You can even use this rack for holding utensils, cookbooks, or houseplants!
Add an Island to Your Kitchen
If you've found that your kitchen needs just a little more countertop and a bit more storage, then adding a rolling island can be a great solution for your needs. 
Its a huge cost savings when you consider what it costs to have a permanent island installed.
The Rolling Kitchen Island offers shelf space inside, built-in cabinets, a mini spice rack and a towel rack.
This is especially great if you'd like a temporary workspace that you can move out of the way when you need to!
Use Your Doors for Storage
If you have a door in your kitchen, you can put it to use!
If you've been wondering about finding better storage options for cookie sheets, muffin pans, and cookie
boards, then an over the door solution like the Over the Cabinet Door Organizer might be exactly what you're looking for! 
Add Extra Storage on Your Refrigerator Shelves
If your refrigerator is feeling a bit crowded and cluttered, then there are a few things you can do.
For instance, adding Kitchen Storage Bins is a great way to better organize your refrigerator space. 
Don't Have a Pantry?
Don't worry, you can add a pantry, and it's easier than you think.
This Pantry Cabinet gives you the space of a pantry without the hassle of building one.
Plus, if you want to move your pantry to another location, no problem! 
Don't be overwhelmed by kitchen disarray, there are plenty of ready-made solutions out there. 
I'm confident that most kitchens still have a lot more space that could be made available with the right products and/or creativity. 
Just as we demonstrated in our article on garage organization,  there is almost always more space available! 
Any large and daunting problem can be tackled by taking it piece by piece.  Your kitchen is the same way. Start with one thing, like pots and pans, and get it under control.
Then move on to the next problem area until finally you arrive at a level of organization you love. 
I hope this article inspired you to start tackling your kitchen.  Any organization ideas or products you can't live without? Let us know in the comments!