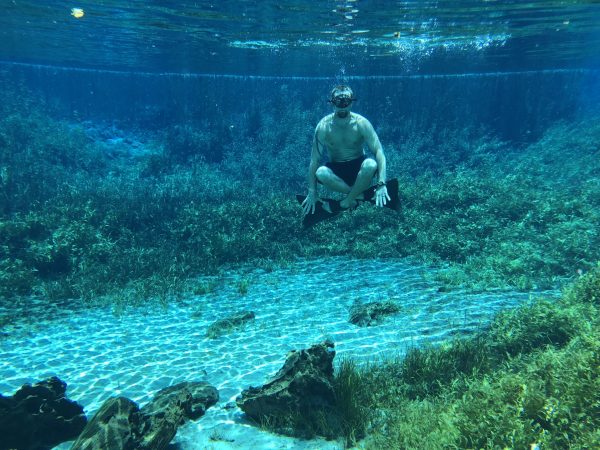 Seems like it's always hard to get a full run-down on the details that you need to plan a trip to the Florida springs. Some use private concessionaires, some have trams, some have multiple entrances! Well, here's a comprehensive overview for visiting Rainbow Springs, Florida. 
Rainbow Springs essentially has 3 different entrances:
1) Northern headspring entrance
2) Middle camping entrance 
3) Southern tubing entrance
There is also a private concessionaire called KP Hole which gives you many of the same options, but I will explain that later…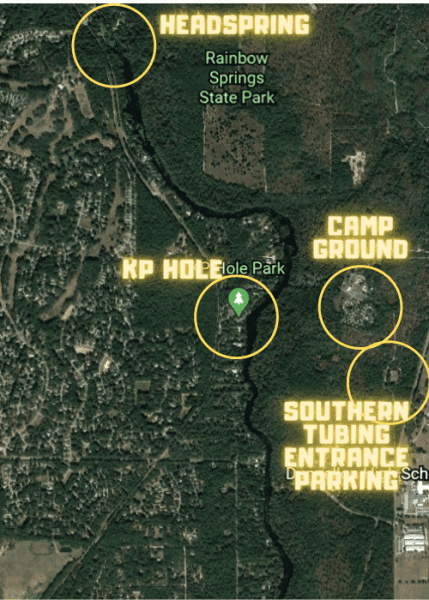 The headspring entrance, which is the furthest north, and the Tubing entrance, which is the furthest south, both fill up fast with a daily capacity limit, so you'll definitely want to get there early. The park opens at 8am.
Headspring Entrance – address: 19158 SW 81st Pl Rd, Dunnellon, FL 34432
This is where you will go to swim in the headspring and it's GORGEOUS! This was once sort of a mini amusement park in the 30's, so now, it's pretty of cool to see the remains of the old bobcat cages and walking paths.
Its important to note that you cannot have tubes in the headspring and you cannot leave from the headspring on the water in anything but a canoe or kayak.
No tubes are allowed to launch from the headspring. Headspring entrance is $2/person and that entry fee is good for any entrance.
Campground Entrance – address: 18185 SW 94th Street., Dunnellon, FL 34432
Pretty much just for campers only. This is about the midpoint of the river for the state park section of Rainbow Springs.
If you have a camping reservation, it will ease any worries you may have about  capacity limitations if you are trying to go tubing. 
Southern Tubing entrance – address: 10830 SW 180th Avenue Rd, Dunnellon, FL 34432
When I say tubing fills up fast, I mean tubing fills up FAST! Here are some of the rules you want to know for trying to get into the tubing entrance of the park and fighting the crowd:
• the park opens at 8am and you cannot park your car on the shoulder of the road as you wait for the ranger station to open.
Cars will begin pacing the main highway back-and-forth in front of the entry gate starting around 7 AM (on weekends and holidays) and will then sort of rush into line at 8 AM. There is a Sheriff on the main road trying to keep cars from stacking up, so you'll want to be somewhat ready for all of this. You can avoid some of this madness by going mid week. Although you will definitely still want to get there right about 8 AM. 
• This entrance is fairly all inclusive, you don't have to come with your own tube, you don't have to worry about where to park or where to get the tram.
• You will pay the $2/person park entry fee plus $20 per person for a tube rental and the tram ride to the launch point.
This entrance is pretty much just a parking lot. Once you park (take only what you want to bring with you on the river), you will jump on a tram and it will actually take you up to the campground entrance where they will escort you to the tube launch and give you a tube before sending you down the river.
• It is about a 2 hour float and it will end at the lot where you parked your car. 
• If you are considering bringing your own float to save a few dollars, you may want to think twice… it used to be that you could pay for a tram ride only for $7 and bring your own tube, but last time we were there that was not an option.
Plus there are rules on tubes size and styles, etc. I say avoid the risk and take advantage of the convenience and just pay the $20. It's totally worth it! 
• Kids under the age of 5 are not allowed to tube on the rainbow river.
• Water temperature is 72 degrees F year round.
Our son is 5 and did great minus being a little cold. Although we did not put him in a life jacket, I would recommend taking advantage of their Life jacket loaner station if you have any smaller kids or if you feel like it might be hard to swim with a kiddo in tow. And don't forget there is a current (2mph), so don't be afraid to play it safe! 
KP Hole – address: 9435 SW 190th Avenue Rd, Dunnellon, FL 34432 
Another complexity to Rainbow River.
They are basically a private concessionaire with their main launch point just south/caddie-corner of the camping entrance (which is also the tubing launch point for the state park).
Tubes are a little cheaper from KP Hole and they also have canoe/kayak rental options. BUT, you will need to be prepared for a much longer float.
Almost 4 hours on tubes, which yes, sounds glorious, but if you get cold easy, or if you have smaller kids, you might want to think it through.
Even a cloudy day will make for a chilly adventure and 4 hours is a long time to be cold! Their endpoint is much further down the river (take out point at—State Road 484 bridge take out—), but does make for an excellent trip! 
My favorite combo is doing the 2 hour state park tubing trip and then trying to get into the headspring after. If the headspring is full after you are done tubing, go grab some lunch and check back 🙂
Rainbow Springs is one of the best springs for tubing in Florida.
If you are coming to Rainbow Springs from several hours away or out of state then plan to stay in the area for at least two days so that you can hit the springs on day two in case you run into capacity issues on your first attempt. Just an idea to ensure you have a chance to see some of this amazing natural beauty!