If you're like most of us, one of the first things you think of (after you think about how much you're looking forward to a vacation) is "how do I stay safe in a place that I'm not familiar with?" 
A valid question and an important one because the truth is that if you are a thief in a foreign country, what better type of person to target  than a tourist? You know for a fact that they (tourists) are unfamiliar with the territory, customs, culture, language etc. so there really is not better target than that.
I am going to show you some ways you can use to protect yourself and your stuff while traveling.
These methods will give you a little more peace of mind so that you can relax and enjoy what you're there to do…having fun!
Some of the methods and gadgets that I will talk about are:
Secret hair brush safe

Hidden storage belt 

Secret bra storage

Shaving cream secret storage

Shoe storage
Shoe Storage
So there you are in your hotel room getting ready to hit Sala Apolo in Barcelona but you're not sure where you're gonna stash your goods like keys, cash or emergency snacks cuz your dress is basically painted on. 
This dilemma has a champion, its called Double Agent Shoes. "Say what?! This ain't no spy mission!" Just stay with me here. These shoes are not just for agents, they are for any gal wanting to stash her cash without raising any suspicion. Check it out below.
Bra Storage
Okay, now that you've got your DoubleAgent shoes you're all set, right? Well, what if you want access to to smaller items in easy reach?  You might be thinking "what if I walk through some wet concrete tonight, I'll lose my shoes and everything in them!" 
That's why you are going to want to supplement your storage with the handy PocketBra.  The PocketBra is a specially designed bra with secret storage. It allows you to ditch the handbag and be hands free yet still stylish and have your stuff conveniently concealed.
You may not want to buy yet another bra so for those of you out there that still want the convenience of this storage option consider the Undercover Bra Stash.  Its an add-on for your existing bra.
Money Belts
bra Let's just be crystal clear here, I'm talking money belts NOT fanny packs! These are slim belts that tuck in your waistband and keep your valuables in such as location that would-be thieves think twice. 
If you have a backpack that is sitting next to you at a train station, its a much more inviting target than a money belt tucked in your pants. Which one is going to make for a fast and easy get-away? 
Now you many be wanting something a little more streamlined and "fashion forward". No worries, I have just the thing (and it doubles as a real and functional belt).  I give you the Travel Security Belt.
Concealed Hair Brush Safe
Hair brushes, we all have 'em, right? Pretty common thing to have and very UNcommon thing to have stolen. What better place to stash your cash?  With a removable top and hollow inside it makes for a an easy access yet unsuspecting safe.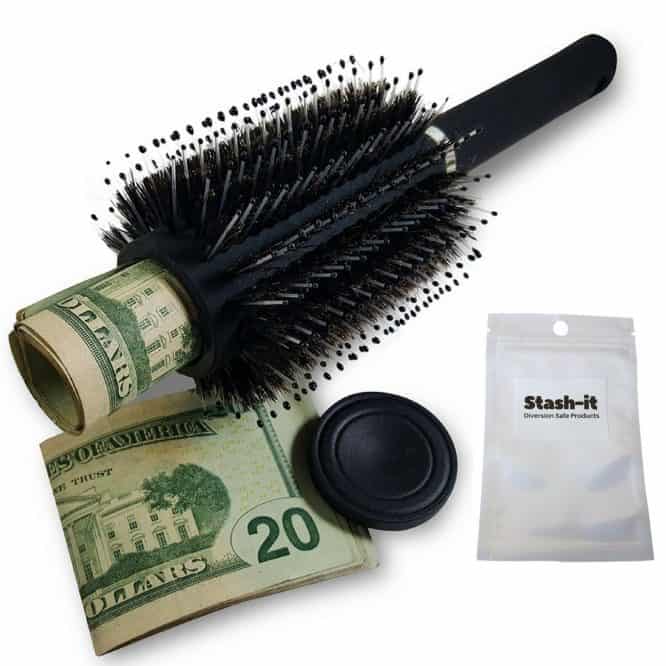 Shaving Cream Can Safe
Fight back against stubborn stubble…and thievery with this shaving cream can hidden safe.  Pop open the bottom to reveal plenty of storage space for money, credit cards, tickets…or a tiny can of shaving cream!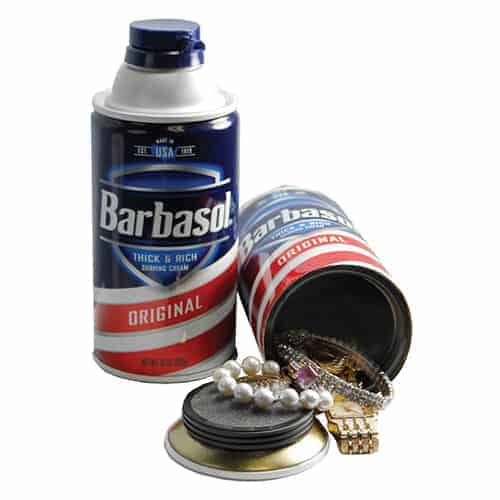 We have concealed safes in shoes, why not socks?  Introducing the Zip It Security Pocket Sock.  With a little zippered pocket towards the calf, this sock can carry your passport, cash cards or other slim items.  Nicely hidden under your pant leg, no one will suspect you're ridin' dirty!
Under where? Under there, where crooks don't go. This company makes a super secret stash pocket right next to your franks and beans so you can rest assured that even if they take off with your back pack you at least still have your underwear valuables.  
Leg Strap Storage
This is a real easy, low profile way to conceal one or two items on your person yet still be pretty accessible.  This is the Leg Strap Hidden Pocket.  Anti-slip Neoprene will go a long way to making this a convenient and practical way to hide some cash or passport. This is sold as a water bottle stash spot but clearly it would be very effective for travelers and their valuables.
Pacsafe Slash-Proof Backpack
So this is pretty cool, its a slash-proof backpack that is made of "tough nylon twill and high-tensile, stainless steel wire". On top of that, it also has RFID protected pockets for those higher tech thieves. Is it comfy for those long treks though the Alpine countryside? You bet, check out the mold foam back support.
Tank Top Concealed Storage
Pick pockets beware! The concealed storage tank top is here to stay (and here to make sure your stuff stays put) . This tank top from Clever Travel Companion makes hiding your valuables like credit cards and cash easy and better yet easy to get to.
Pick-Pocket Proof Adventure Travel Pants
So we have shirts all squared away, we have shoes covered but what about pants? Gotcha covered. These pick pocket proof pants by Clothing Arts are well designed to be both comfy, fashionable and of course totally immune to pick pockets.  From pockets within pockets to button-over-zipper designs, these guys have made the perfect traveling pant.   I'm picturing the perfect concealed storage belt with these pants…
Travel Insurance
Ugh! Insurance! You're paying money for something that might not happen.  I know, its tough to stomach but the reality is that when you are in a foreign country and thrown into an environment that has very different customs and culture, you're chances increase of something going awry.   
For example, the number 1 cause of tourists traveling abroad is traffic accidents.  And that should come as no surprise especially if you find yourself in a country that drives on the opposite side of the road than you're used to.
A good example of this is our trip to Turks & Caicos, they are on the left side and believe me, it takes some getting used to.  In case you're curious, some other leading causes of injury and fatality are drugs, drowning, alcohol and animal encounters. 
If you want to watch a sobering series on what can go wrong while traveling check out Bad Trips Abroad -there's some doozies in there!  All of this is say, hey, sh!t can hit the fan real quick and isn't nice to have some peace of mind in the form of travel insurance?! 
One of the top companies providing just that is World Nomads.  But how much does it cost?  Well, lets go back to the Turks & Caicos example and say I am going for one week.
Based on my age, state, country etc. I would be looking at $72.45 for standard coverage and $99.47 for the upgraded coverage.  What are the differences between the plans? There are several but I will mention a few:  emergency evacuation amount, trip cancellation, trip interruption and loss/damage of baggage.  
All of this is not to suggest that traveling is the most dangerous thing you can do with thieves and baddies on every corner.
But things can go wrong and you really, really don't want to be stuck somewhere with no money, credit cards, passports etc. because you hadn't taken some easy precautions like the Travel Security Belt or the slash-proof back pack. 
I hope you took away something useful from this article and if you want to add anything that has helped YOU on your travels I would like to hear about it. Leave a comment below!