Garage out of control? Seems like its harder and harder to walk through the colossal mess? Read on because we've assembled some great solutions for your messy garage.  Easy to implement solutions like:
yard/garden tools organization

storage bin accessibility 

peg boards for tools

organize and store bikes

easy shelving units
Sometimes it seems like climbing Everest would be an easier feat than cleaning out the garage. But just like climbing a mountain its one step at a time, one mess at a time. When time is limited, you can put any of these simple garage storage ideas below into play in less than 20 minutes (some even take only a few minutes!) and you can begin to gain a semblance of order to the garage! From garage shelves to garage cabinets, we've picked ones that won't take a weekend commitment to install. In fact, if you go in this order, you may be surprised that you don't even need to lug everything out of the garage to get started.
Peg boards
The ultimate storage solution! Do let the idea of a peg board intimidate you! Simply screw the big sheet to the wall and add hooks as you need them. Its very
versatile
 and it allows you to customize what you need to hang and where. Don't overthink your peg board or try to map out a master plan. Once it's up, you can hang item by item AND save time hunting for it from now on. 
Garage shelves
Consider

adjustable stacking shelves

– find enough floor space against a wall for these and get started. Between boxes and Christmas decorations, getting things off the floor and onto a simple shelving unit can begin to put a dent in the organization process. Durable shelves like these can hold weight and can be customized to height – Have room for 2? Go for it!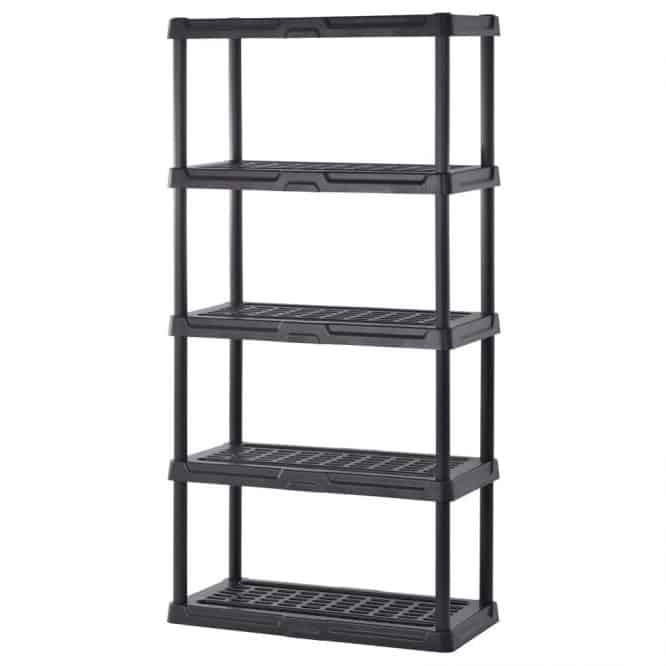 Storage bins
They're a great way to group things together! Don't forget to mark them though… and bins and totes like

these

come in many sizes so you can pick what's right for you. And besides, grouping things and THEN putting them on those shelves (above) will make you seem like the Martha Stewart of garages with very little effort!
Utility hooks
As we explore items that need a screw driver or basic drill, we will stay focused on ones that don't require expert skill to put together or install…. basic

utility hooks

can serve so many purposes and are super simple to put up. If it's on the floor of your garage, find a way to hang it up and you'll be glad you did!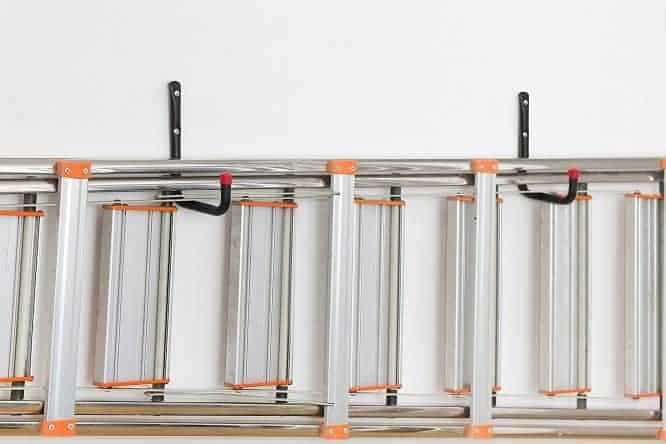 By now, you've gotten soooo much up off the ground you may even be able to walk through your garage! Amazing, huh? Here's a few more that are a bit more specialized, but super helpful… keep going!
Bike storage
Everybody's got em, nobody uses 'em! Hang up your bikes and gain more space that you realize! This

bike rack

is easy to get bikes on and off of AND is easy to install.
So far, you haven't even had to bust out the screw driver, so let's keep going! Pop together a unit like

this

and your shovels and rakes will feel like you finally care about them!  It literally couldn't be any easier or faster. Boom! insta-organize! 
Garage cabinet 
A real no-brainer… hide it all in a rolling 

c

abinet

! A great place for those unsightly half-used paint cans and seldom-used tools.
Ball rack
This baby

is easy to hang with the benefit of keeping all of your sports stuff together. Have the bat, but can't find the ball? Not anymore 😉
Cord and hose wraps 
Multi-functional, you can never go wrong with wraps like these…. hoses, extension cords, ropes, tubing, you name it!

These wraps

will help you keep it all together. You may even find them handy inside the house as well!
Of course there is always one of my favorites, the ol'

Cable Wraptor

for taming extension cords and other similar things.
Ceiling Mounted Storage
One of the most underutilized spaces in any garage is the ceiling. This space can actually be a great place to store things yet still have them be accessible.  One of the key things when narrowing down what you'll need for a ceiling rack is the ability to adjust how much space to make available.
The next two racks do that very well. The first is the

HyLoft adjustable rack

. You can space it as little as 17″ from the ceiling or as much as 26″ and because they are two separate pieces you can separate them as far as you need.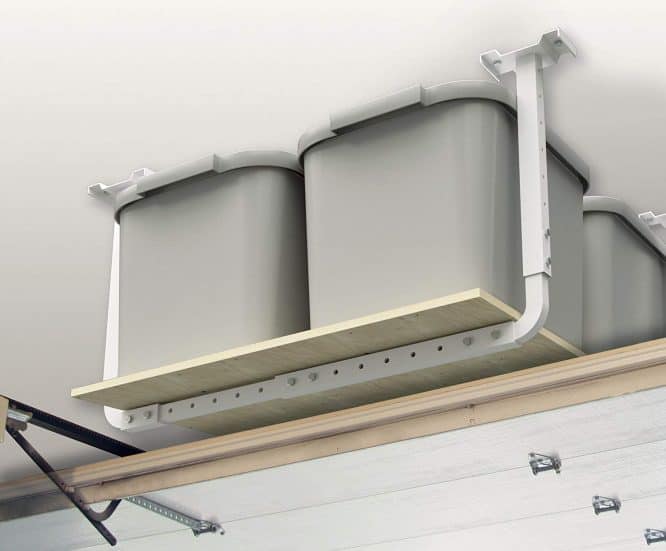 The next rack system is depth adjustable but not length adjustable however you do get 96″ of length (8 feet is quite a bit). 

This

is a really awesome set up and because its made of a metal grid system you can hang additional things from hooks below the rack.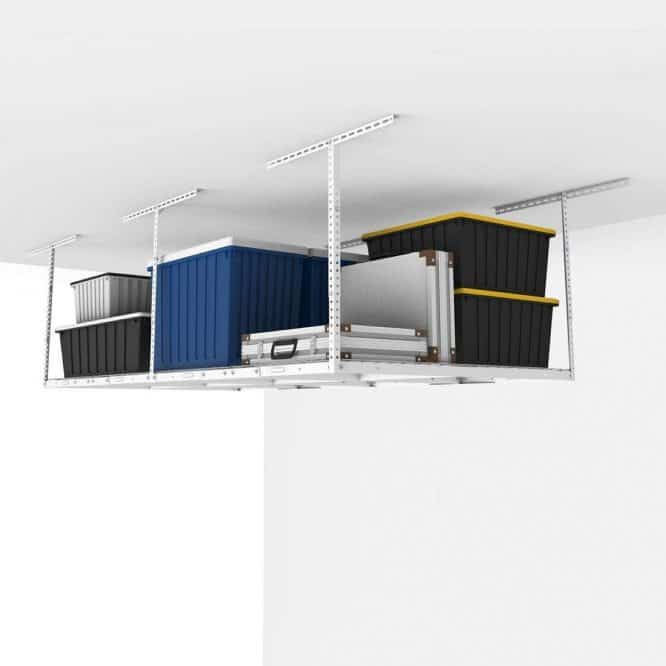 I hope that this article inspired you to take actin and regain control of your garage.  Its just one of those places that's out of the way and its easy to just toss some things in there and forget about it but it doesn't have to look like that anymore.  Implementing just a few of these solutions will go a long way towards taming the garage mess beast!
Do you have any systems or solutions that you use that you would like to share? Let's hear 'em -just post in the comments below.