While we are all looking for a little project to give our house a new look, don't overlook the laundry room!
The great thing about giving your laundry room a
make-over is that is won't cost much to TOTALLY change the look!  Compared to a bathroom or
kitchen, you can get a lot of bang for you buck
upgrading your laundry room.  Here are 9 ways to do it on the cheap!
Paint
Yes, very obvious.  Very Basic.  BUT… this is a room that you can really test your wild side without risking too much.  Other than a $30 can of paint, almost
anything you pick can be undone or changed if its just not looking the way you imagined. Hey – it happens!  Check out
this article
for some laundry room paint inspiration.
Just like chair rail,
crown moulding
can really add a classy touch (if you do it right!) to any room.  The nice thing about a laundry room is that you typically
have far fewer linear feet you need to buy. For example, we recently bought a low profile crown moulding for our entire laundry room for just about
$30. We stained it with the same satin that we used on the tongue and groove ceiling and installed it our selves.
If we can do it, so can you 😉
Whether you just buy a new shop sink like

this one

,
or you want to step it up a notch with a more unique one like this,
the sink can really freshen up the look of your laundry room!  As a bonus, most laundry room sinks are simple enough to swap out that you won't need a plumber (trust me, that's a savings!).  
Whether a

single cabinet

or a set of cabinets over the washer and dryer, basic cabinets from Home Depot or
Lowes can do a lot for a laundry room.  They add both depth and functionality to your space.
Besides, hiding all of the detergent bottles and stain removers, it will also help your laundry room look less cluttered.
Yes, I know you are thinking you can install shelving to put things on.  But have you considered that
shelving can be used to
hide
uglier washer/dryer set-ups, outlets or even old window sills. Check out this example.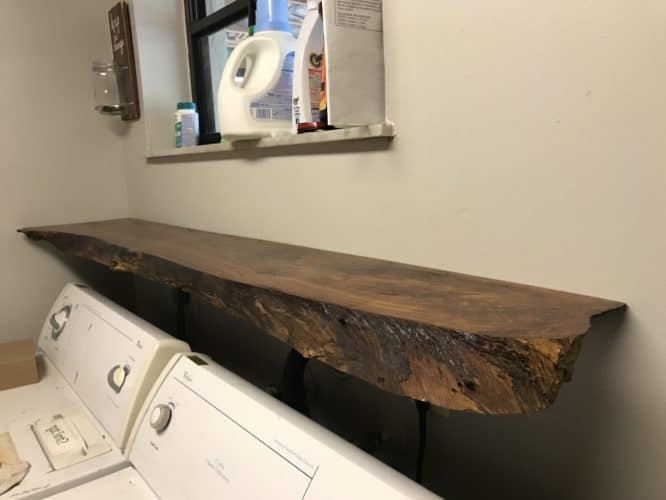 The shelf above we made but you can also buy them to the size you need -regular cut or live edge (as you see above). Here is a

link

to some shelf makers on
Etsy.
They can be installed using decorative L-brackets or you can go stealth with hidden style brackets.
The laundry room is the perfect place to put a little "family art".  We did this piece
which is a simple footprint/handprint set on stained wood (the extra tongue and groove we had left over!)
but it came out great and it matches up nicely with
the rest of the room.  You can search for your own thing or get some inspiration
here
.
With pre-made boards like these,
almost anyone can install their own tongue and groove.  The hardest part was deciding whether to paint it white or go with a more natural stain.  
We went with the natural stain and only spent about $100 doing our (8'x14') laundry room ceiling (that includes wood, nails AND stain!).
Totally changed the
look and feel of the laundry room.  It goes in pretty easy and you just need a

brad nailer

(or rent one), brad nails, stain and a table saw.
This is possibly the most expensive of all these, and the hardest to do on your own without some experienced help.
There does exist some quick and
easy solutions though. For example, a relatively new option in the world of flooring is the vinyl plank flooring that simply snaps together. 
I found this SUPERcore style

vinyl flooring

at $3.29/sqft so if the average laundry room is about 35 sqft then you're looking at about $115 to re-floor your space.
Everyone's got 'em…spare change that jingle jangles around in the dryer or maybe that one sock that doesn't seem to have a partner.
Well, its time to
make a home for those.  How about some functional decor? Some wall art that serves the purpose of giving a home to this kind of stuff.  Check out these
As you would guess, Etsy is a great place for that kind of hand-crafted decor.  I found the Lost Socks piece

here

.
I hope this article has not only inspired you to think about what you can do to improve your laundry room space but also given you hope that it doesn't have to
be as expensive as you think.
There are some great options out there that aren't costly but will go a long way to making your laundry room more…you! 
If you have suggestions for readers on how you turned your laundry room around, please feel free to share in the comments.
Got a garage that's outta control? Check out

this

article on how to organize it.