In this article I want to share with you some companies that actually give back when a customer makes a purchase from them.  Sounds crazy but yes, there are companies that aren't just concerned with the bottom line and shareholders.
Hopefully, you can use this list and the information to buy conscientiously the next time you go to make a purchase. Purchase with purpose.  Wouldn't it be great to find a great gift or product that is not only meets high standards for quality but also aims to help out socially and economically?  In this article, I will cover companies that:
plant trees

give out tooth brushes

provide clean water

promote education

give out glasses

give out beds 

fight poverty

and more
Let's get right into it!
The Tote Project
In support of those who have been affected by modern day slavery, the Tote Project aims to give survivors of the sex trade a new lot in life. They learn a trade and discover a new and healthy purpose in life.  In this case, they are involved in the creation of the totes. For example, a survivor may choose to be involved in sewing the totes.  Ultimately, 10% of the profits from the Tote Project are donated to Two Wings which is a non-profit whose goals are to remove those in the sex trade and place them in an environment where they can start over and lead normal lives.
Barebones
In April of 2015 a massive and deadly earthquake (9,000 killed) struck Nepal. Barebones jumped in with two feet to aid the survivors in many ways. One of the ways they did this was by donating tents for those displaced and left homeless.
They also donated and set up makeshift birthing clinics for local families.  Additionally, they helped turn around a village in Africa into a thriving farming community. 
And in the U.S., Barebones has helped to transform unused public lands in Utah into fruit and produce farms.  The food then gets donated to several groups that distribute the food to those in need.
Bombas Socks
Socks, everyone has 'em (except probably Jimmy Buffet). But do you have super engineered and well thought out socks with superb design? Yeah, I didn't think so.  Introducing Bombas. Its a super duper engineered sock that has all the right stuff and when you buy, they donate a pair to someone in need.
Warby Parker
If you don't know these guys, you should. They single-handedly disrupted the near monopoly of the sunglasses and prescription glasses industry.  Luxottica, by most accounts, controls around 80% of the eyeglass industry.
The problem is that most people don't even realize it.  Can't decide between Oakley, Ray-Ban or Persol? Doesn't matter, they are all owned by Luxottica.  And so is LensCrafters, Sunglass Hut, Pearle Vision etc. 
When you buy from Warby-Parker, you're also inadvertently buying a pair of glasses for someone in need, somewhere in the world. According to Warby, there are 2.5 billion people in need of glasses.
Marc Skid
Admittedly, this is not the best name for undies but I guess the name does have sticking power.  What's more important than their super soft pima cotton materials is their lofty but admirable goal of feeding, saving the curing the world (hey, no pressure!). 
Using proceeds from the sale of their undies they strive to fight malnourishment, cure preventable diseases and save the world via addressing air and water quality issues.  See more about their goals here.
Yuhme
Water bottles, everyones got 'em. Tall ones, ones with compartments, BPA-free ones, and so on. Yuhme is certainly a new take on the standard water bottle. They are made from sugarcane which makes their production CO2 negative.
Its gets better because they provide 6 months of clean water to someone in Central Africa via the charity called Water for Good. I bet water from this bottle will taste just a little bit better now…
WooBamboo Toothbrushes
Yup, toothbrushes. Everyone has teeth, right? So why not give 'em some love? Woobamboo is a company that gives back when you buy their toothbrushes and dental care products.
They donate these biodegradable bamboo toothbrushes to those in need of them. Plastic can last hundreds of years in landfills but bamboo goes back to nature in no time. Woobamboo has recognized this as well as the need for toothbrushes in developing countries. Win-win!
TOMS Shoes
Quite possibly one of the better known brands that give back, TOMS shoes gives a pair of shoes to someone in need when you buy a pair (part of their "One for One" mantra) but did you know that they also sell bags and glasses?
And not only that but when you buy a bag they provide a safe birth for a pregnant mother in need and the purchase of glasses restores the sight of a person in need.
Cotopaxi
A strange name sure but there's no doubt they're doing some good. This apparel company aims to alleviate poverty around the world by starting with their revenue. They donate 2% of it towards aggressive organizations that are making the most inroads towards combating poverty locally and globally.  As the logo suggests, they even use llama fiber as warming fill in some of their jackets.  
Lifestraw
So you may have seen they Lifestraw image on the web somewhere, its a guy sucking water out of a stream with a big blue straw thingy. The company uses their patented filtration system to remove 99.99% of harmful bacteria from the water that passes through the straw thereby making water much more available to both outdoor enthusiasts and those in underdeveloped countries. 
Did you know that they actually have a whole line of products beyond the original straw? They have water bags, water bottles, water tubs and so on.
Its worth checking out because not only are their products gonna potentially save your butt but they also give a child in need safe water for a whole school year whenever you buy one of their products.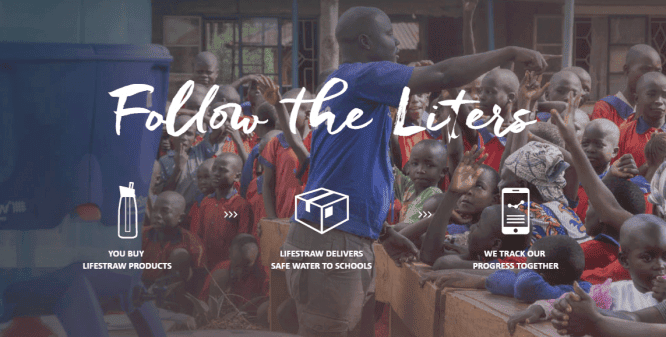 FEED
Need some apparel and accessories and wanna make a difference at the same time?  Thats how FEED felt too so they came out with a brand whose goal is to use some of the revenue from goods sold and make a difference in kid's lives by providing meals. 
Partnering with the United Nations Food Program and the Feeding America program and over 100 million meals provided to date, I'd say they are well on their way.
Parachute
Parachutes are usually above you (if you're doing it right) and so are Parachute the bedsheets. Their product goals were simple: extremely comfortable bed sheets.
Their activism goals were also simple: provide bed netting to prevent mosquito-borne malaria and to donate to an animal shelter in L.A. Pretty straight forward I would say. Sheets like this will definitely help you sleep better at night.
Woodsi
This Australian-based sunglasses maker decided that cool looking sunglasses for all weren't enough. They took it further and decided to take responsibility for the environment and give back. 
Each time someone buys a pair of Woodsi sunglasses a tree magically sprouts up (okay, I'm sure its helped by a dedicated tree-planting organization but still…).  Their frames are sourced from sustainable ebony wood and even come in a eco-friendly, recycled carrying case. The world is starting to look pretty good with these glasses on!
FluidStance
So these guys actually make a little balance board that you stand on at your stand up desk. Its meant to burn a little more calories than you normally would otherwise.
Since then, they have expanded into water bottles but not just any water bottles but ones that look old fashioned yet rock modern function. When you buy from FluidStance, 1% of revenue will go to First Descents which gives free outdoor adventure experiences to young adults afflicted with cancer.
Everlane
Everlane is a clothing company with a conscious. A socially-aware conscious. They've been donating money to the ACLU when folks purchase from their 100% Human Collection.  Check 'em out here. 
Pela Case
So pretty much everyone has a cell phone case but does your cell phone case give back? Didn't think so.
Well here's a chance to change all that. The Pela Case will not only protect that all-important glowing oracle you keep in your pocket but it will also actually compost in the dump when you're done with it (unlike other plastics that hang around for 200 years).
Also, the company is part of the 1% for the planet initiative which is a collection of large and small companies that have pledged 1% of their annual net revenue to global environmental non-profits.
Patagonia
Its a place, its a company, its a movement. Remember that 1% for the planet thing I mentioned above? Well, Patagonia has been leading the charge on that movement since 1985. In fact, they have ponied up over 89 million in cash and donations to the cause. 
They also hold strong beliefs about the current throw away society. They have a whole department of seamstresses and textile folks that receive and fix garments sent to them by customers.
Been using and abusing your Patagonia jacket for the last two decades? No, problem just send 'er in and they will fix it right up. Your jacket goes on to conquer another mountain instead of ending up in a mountain of trash.
Olori
This Nigerian based company is all about women…and handbags. The handbags are made by craftswomen and focus on leaving production to women-owned businesses in Nigeria.
Whenever someone buys one of their handbags, one month of education is donated to an underprivileged girl in West Africa. A little bag goes a long way.

My Red Tea
This  strange looking red tea is supposed to have some excellent health benefits but whats more is that this tea (that people just love) also gives back. 
The My Red Tea company gives back 10% of their profits to help support education in the very farming communities that help grow and pick the plants responsible for the Rooibos tea.  Oh and I just looked for it on Amazon, turns out its a #1 Best Seller.
One Happy Leaf
You ever heard of One Happy Leaf? Me neither, but it turns out the company owner is out there making a difference just the same!
At One Happy Leaf, they make their jewelry sustainably and each time you buy one of their pieces they will happily plant a tree. By partnering with an organization called Trees for the Future, they have been responsible for planting over 11,000 trees.
Causebox
Monthly boxes are becoming pretty popular. You can get the Barkbox for your dog, Birchbox for personal care items and now you can get ethical, environmentally aware and socially responsible products sent to you monthly. Introducing CauseBox. Its kinda like everything I've been talking about in this article but sent to you monthly.
Cauze Closet
Continuing with the "cause" theme, here is Cauze Closet:
"We are Cauze Closet. We partner with local nonprofit organizations to grow awareness and participation for their individual causes. We do this by designing unique apparel, marketing it, selling it, and donating the profits back to their organization."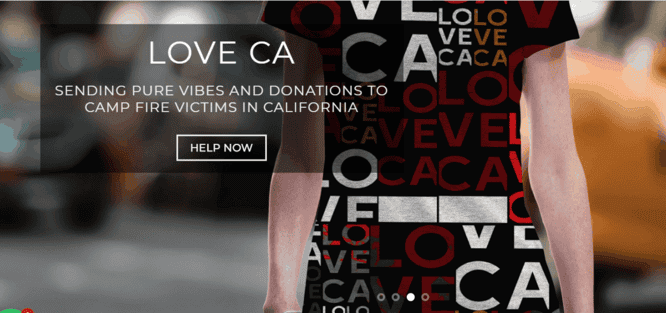 I hope this list serves you well when you find yourself in the market for any of the products mentioned. Or perhaps you are looking for a socially responsible, environmentally friendly gift?
Either way, I think the companies on this list are making strides to make our world a measurably better place.  They are building a more substantial legacy for their companies- something beyond just impressive profit and growth charts. 
If you think there is a company out there that I didn't mention that you think absolutely must be on this list, lemme know!  If you are a company whose ideals line up with those of the companies listed here, lemme know and I'll ad ya!