In this article, I will lay out some inspiring ideas for your pool experience.  You don't know what ya don't know and I'm here to highlight some really cool pool additions that are sure to get you thinking about how you can get more out of pool time. 
This article will cover things like: underwater exercise bikes, floating beer pond tables and incredible floating mats that hold an amazing number of people. Lets get to it!
There's nothing like jumping into your pool to cool off, but if you or your family is looking for something to make pool time even more fun, then look no further. In this guide, I'm going to show you 14 must-have items to take your pool experience to the next level!
Pool Climbing Wall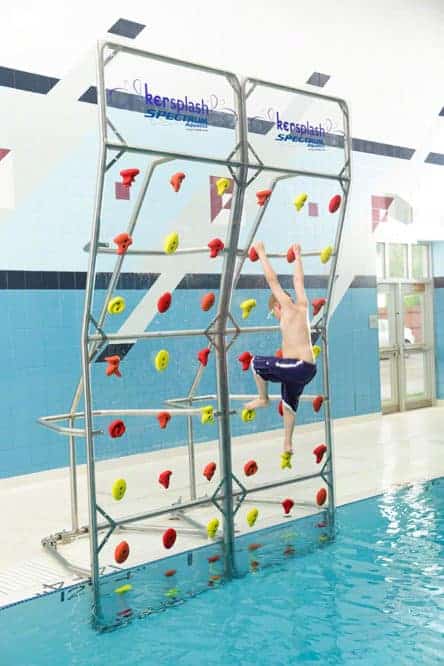 A pool climbing wall is fun for kids and adults alike! Climbing up is fun, but so is jumping off into the water. If you've got active, adventurous kids in your home, or if you're looking for a unique way to add more fun and exercise into your pool time, then a pool climbing wall could be just the thing for you. Take a closer look at this KerSplash Crystal Clear wall.
Pool Saddle
If you just want to float and relax, a pool saddle can be the perfect way to enhance your swimming (and drinking) time! With a pool saddle, you can rest your body on the float itself and just use your arms and legs to paddle around. Check out this TRC Recreational Pool Saddle.
Jumbo Floating Water Mat
Oversized floating water mats are huge fun for the pool! Up to four adults can fit on one of these, but they aren't just for adults. This Big Joe Waterpad has built-in anchor points that double as drink holders.
Water Roller
If you want a floatie that your kids and most of the adults won't be able to resist, then this is it. A water roller is a blast, and you'll have a blast both watching people trying it or giving a go yourself. Get your water roller here.
Floating Pool Pong Table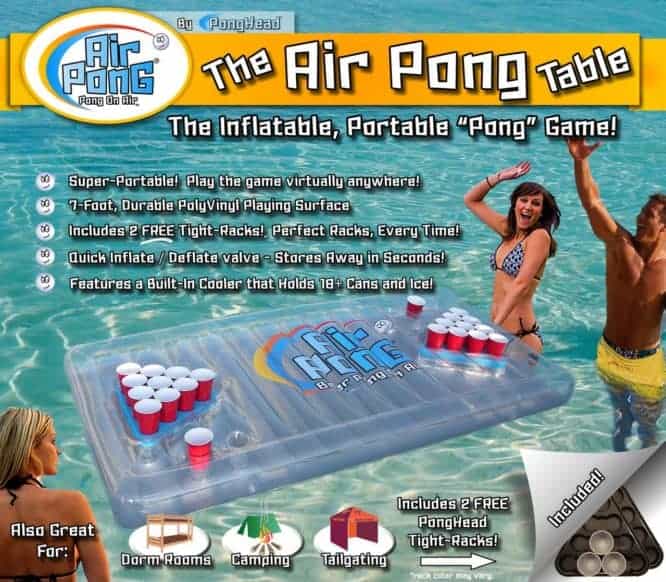 Play a party favorite with a new spin! Playing pong while you swim will take your game to a whole new level. This Air Pong Table is designed to hold 18 cups.
Watermelon Ball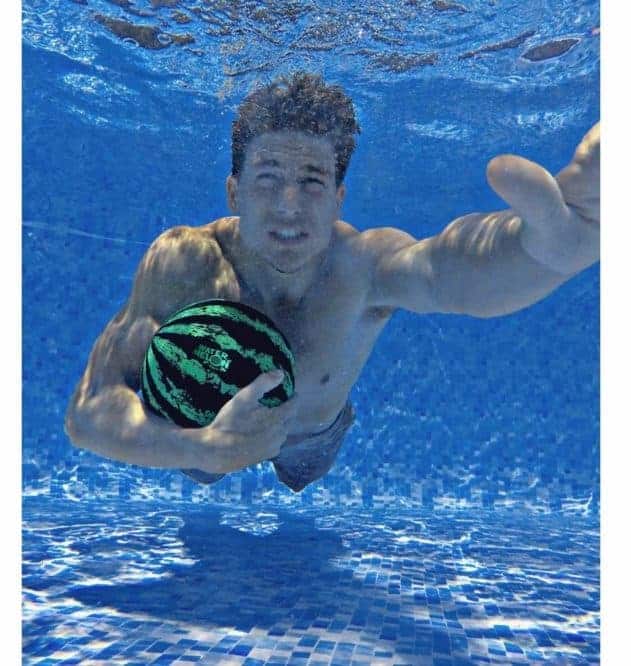 The watermelon ball is filled with water from your hose instead of air and makes for a great underwater game. If you've got large group, it's easy to make teams and enjoy this game. Check out this watermelon ball.
Underwater Pool Stool
If you want a statement piece for your pool, then this might just be it! It's not permanent, so you can move it around as you want, and you get the feel of a swim up bar. If you just want to give your pool something extra, check out this Envy Pool Stool.
Floating Music Speaker
Want to bring your music in the pool? A floating music speaker is a great way to play your music while you swim without worrying about shorting out a device. Whether you want to rock out or play relaxing tunes, a floating music speaker is the answer. Check out this COWIN Swimmer IPX7 Floating Waterproof Speaker.
Floating Card Table
If you and your friends like playing poker or any other card game, why not kick it up a notch and play in the pool? A floating card table comes with everything you need to play your best hand on the water. Check it out here!
Aquabike
If you are a fan of the elliptical, then you'll probably enjoy the aquabike. An aquabike gives you the fun of cycling while being in the pool and cooling off. That's right, the aquabike goes right in your pool, and being in the water is great on your joints. Read about the WIKE-UP Aquabike here.
Floating Glowing Orbs
What a fun way to decorate any pool and really make it light up at night! Whether you're having a party or just love looking at lights on water, you'll love floating glowing orbs. These Mood Light Garden Deco Balls offer settings allowing you to choose your color or even transitions.
Floating Movie Screen
Imagine having those light up pool stools in front of an inflatable movie screen! If you think watching a movie in your pool would be fun, you are right! This inflatable movie screen is over 12 feet wide – wow!
Wall-Mounted Towel Rack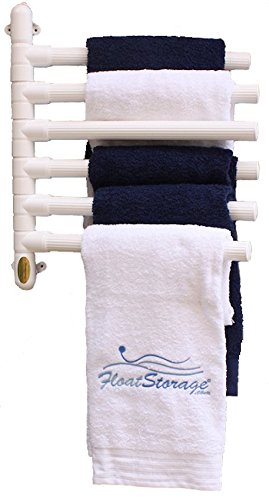 You can really give your pool a warm feel with a towel rack. A towel rack can be used to hold towels and other pool accessories, making your pool area also look more organized.Check out this towel rack!
If you or your kids like to have pool parties, if your pool seems to be the local hangout, or if your pool is where you spend a chunk of family time, then you can really take your pool experiences to the next level with your choice of unique toys, flotation devices and more!