Whether you're looking for the perfect birthday gift, anniversary gift, or gift for a holiday occasion, choosing the best gift for the golfer in your life doesn't have to be as hard as getting a hole-in-one.
In this comprehensive guide, we've created a full list of the top 12 gifts any golfer would love to have. You'll find exciting golf related gift ideas that vary in style and price, but one thing is for certain: you're sure to find the perfect unique gift for the golfer in your life right here! 
Floating Putting Green
First on our list is the floating golf green. A floating golf green is a simple concept, as it is literally what it sounds like. Golfers are always imagining themselves upping their game in exciting new ways, but a floating golf green is truly something amazing.
Golfers can place a floating golf green in a pond, lake, or pool to take their game to a thrilling new level. The best part is that floating golf greens come in a number of sizes and shapes to accommodate various needs. If you've been looking for a truly unique golf gift, this one might take the cake! 
Potty Putter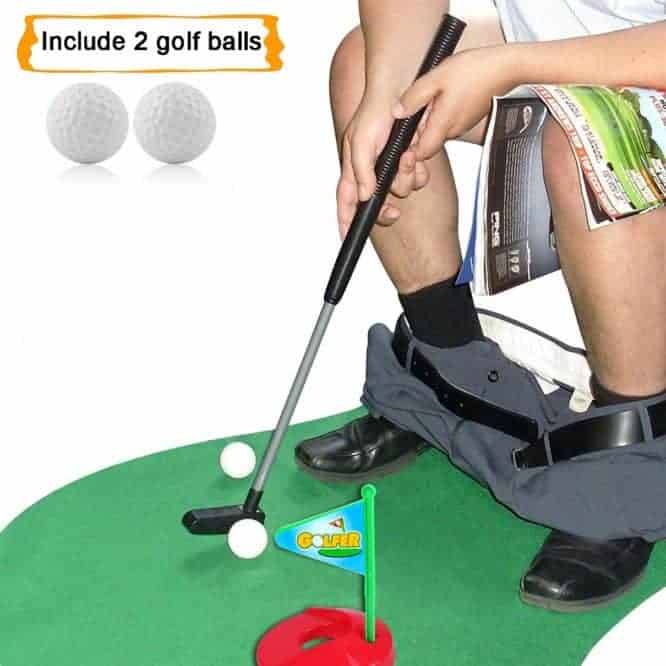 If you know someone who is simply mad about golf, then you might have fun with this gift item. The potty putter is a classic novelty gift item that can work for anyone, but it's especially fun for the golf enthusiast in your life.
If you've been looking for a great way to joke around with someone who loves the game of golf so much they think about it in the bathroom, then this definitely gets the job done. The potty putter is a fun novelty and affordable, too. 
Handmade Golf Club Bottle Opener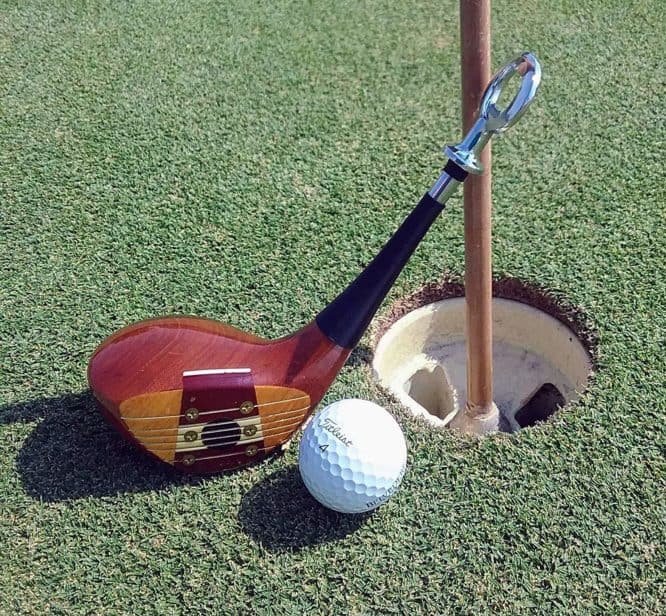 When it comes time to find a gift for someone who seemingly has it all, you're faced with a dilemma. If you know they love golf, then your challenge is made a bit easier with the vintage golf club bottle opener.
Hand crafted from old golf clubs, these bottle openers are completely unique and distinct, offering a custom gift for the golf enthusiast in your life. Orders can even be personalized with particular clubs, in some cases! 
The Miniature Book of Miniature Golf
This is a well-made board book that is truly suitable for all ages, but it also makes the perfect gift for the golf enthusiast in your life. Within this book, readers learn the basics of golf as they play true miniature golf. It's a really fun way to play a little golf game with friends or teach a child the basics of golf. This is a book any golf enthusiast will love! 
Golfboard
If you know someone who is seriously into golfing, then they might just be ready to upgrade from their golf cart to something a little more streamlined and fast. The GolfBoard offers the perfect solution.
The GolfBoard is featured at 300+ golf courses around the world and is loved for its ease of use and eco-friendliness. Virtually anyone can learn to ride in minutes! 
Green Grass Nike Golf Shoes
If you want to get your golf enthusiast something they'll never forget, and if you know they'll appreciate your sense of humor, one of the latest golf shoes from Nike might interest you.
This show is different because they'll help your golfer blend in with the course. That's right, the Air Max 1 golf shoe is covered in green material resembling turf for an unforgettable look.
Glow in the Dark Golf Balls
If you want the perfect gift for the all-weather, all-terrain, die hard golf player, then this might just be it. These glow in the dark golf balls are LED illuminated and rechargeable, making the ideal golf ball for low and no light conditions.
If the battery fades, luminescence means these golf balls will glow in the dark for up to 6 hours. This is a fun gift for any golfer in your life! 
Desktop Golf
Office worker by day, golf player by weekend. If you know a golf warrior who works a desk job, then desktop golf might be the ideal gift for them. While they're daydreaming about being on the green, the golfer in your life can play desktop golf for a mini-rush anytime and virtually anywhere.
If you've got someone in your life who dreams of playing golf when they can't, the desktop golf game is a wonderful gift idea! 
Personalized Bobbleheads for Golfers
This might be the most unique gift idea you'll find on this list of gift ideas for golfers! You get started by simply submitting an image, either of the gift recipient or a loved one, and then it's transformed into a golf playing bobblehead! This is such a fun gift, plus it's handmade and custom for a special touch. 
Biodegradable Golf Tees
These make a great gift for the eco-conscious golf enthusiast in your life. These biodegradable golf tees are an eco-friendly choice for the environment. Many, many tees are left behind, and since these are biodegradable, golfers don't have to worry about hurting the environment.
This is a cheap yet considerate gift for any golf player who wants to improve their game and protect the planet! 
Golf Club Clothes Hanger
Does it seem like the golf enthusiast in your life has everything they need? This is one item they probably don't have! Clothes hangers made from golf clubs are useful and unique, bringing a smile to the face of every golf enthusiast every time they open their closet. Made from heavy duty materials, these year-round clothes hangers are a sincere gift for any golf enthusiast! 
Hand Sculpted Pint Glass Hit by Golf Ball
The BenShot pint glass is made with a real golf ball and makes a great conversation piece for the home or office of any golf enthusiast. If you're looking for a special golf related gift that will be the center of attention and talked about for years to come, this is it! 
We hope this guide has given you some truly inspiring ideas for finding the perfect gift for the golf lover in your life!
Feel free to share the love on Pinterest!